Pose Surélevée sur Plots
Chaque fois qu'il s'avère nécessaire de poser un carrelage de sol repositionnable pour pouvoir effectuer facilement des opérations d'inspection et de maintenance, la pose surélevée d'OUT 2.0 sur plots en polypropylène est la solution la plus performante.
Il s'agit d'une typologie de pose dite « à sec » car elle n'exige ni colles ni mortiers et permet par conséquent d'obtenir une surface rapidement posée et immédiatement praticable.
C'est la solution idéale pour carreler des sols imperméabilisés.
La vide technique réalisé entre le plancher et le sous-couche permet également de faire passer discrètement les câblages et branchements des systèmes d'éclairage et d'irrigation sur lesquels il est ainsi possible d'intervenir à tout moment en soulevant simplement les dalles.
Domaines d'application:
Espaces publics extérieurs
Vérandas
Les avantages de les planchers surélevés
Facilité et rapidité de pose à sec, sans colles ni mortiers.
Possibilité de corriger les dénivelées et les pentes.
Possibilité d'enlever et de réutiliser les dalles à d'autres endroits.
Possibilité d'inspection immédiate des installations et des systèmes d'évacuations dissimulés.
Excellente nettoyabilité et résistance aux taches.
Guide Technique
Refin conseille de procéder à un examen approfondi de l'usage auquel est destiné la surface à carreler afin de choisir le type de pose le mieux adapté aux exigences du domaine d'application concerné.
For raised installation Ceramiche Refin recommends always the maximum height of 2 cm.
Plancher surelevé
Poser OUT 2.0 sur les plots précédemment répartis.
Vérifier la planéité de la surface.

Ces stratigraphies se rapportent à la typologie d'application du produit: Refin recommande de vérifier la conformité du projet aux règlementations en vigueur dans le pays concerné, afin de réaliser un carrelage en bonne et due forme.
Vu l'imperméabilité totale du grès cérame, il est nécessaire de donner au sol une inclinaison en rapport avec les conditions d'utilisation, afin de faciliter le drainage de l'eau de pluie. Cependant, en raison de la tension superficielle de l'eau, un voile d'eau peut rester quelques heures sur la surface avant d'évaporer.
Si un voile d'eau reste sur la surface, il est conseillé de le pousser vers les joints à l'aide d'une brosse à carrelage ou de l'éliminer au moyen d'un aspirateur de liquides.
Recommandations pour la pose sans colle
Lorsque la mise en oeuvre de dalles de 20 mm prévoit l'utilisation du produit céramique en termes structurels, il est recommandé aux concepteurs, maîtres d'oeuvre et/ou aux maîtres d'ouvrage de faire une évaluation scrupuleuse du cahier des charges du projet eu égard aux caractéristiques techniques des dalles. En particulier, afin d'éviter le risque de dommages aux personnes ou aux biens, le fabricant recommande:
Si la mise en oeuvre prévoit une pose surélevée, en tenant compte qu'un carreau pourrait se casser suite à la chute d'un corps lourd, de vérifier en avance la destination d'usage spécifique et de se conformer au tableau d'instructions de pose surélevée reproduit ci-après, où, dans des conditions déterminées, il est prévu de rajouter un renforcement sur le revers du carreau (double filet ou acier zingué), fourni par le fabricant;
Concernant le dallage posé en étages, quelque soit le système de pose sans collage utilisé, de respecter les spécifications des normes et les conditions locales d'emploi, entre autre, à titre d'exemple, l'action du vent, le chargement structurel, les actions sismiques, etc.
Le non respect des recommandations reproduites ci-dessus peut conduire à un usage impropre du produit et éventuellement causer de graves dommages aux personnes ou aux biens.
Pour tous les marchés, à l'exception des USA, Canada et Océanie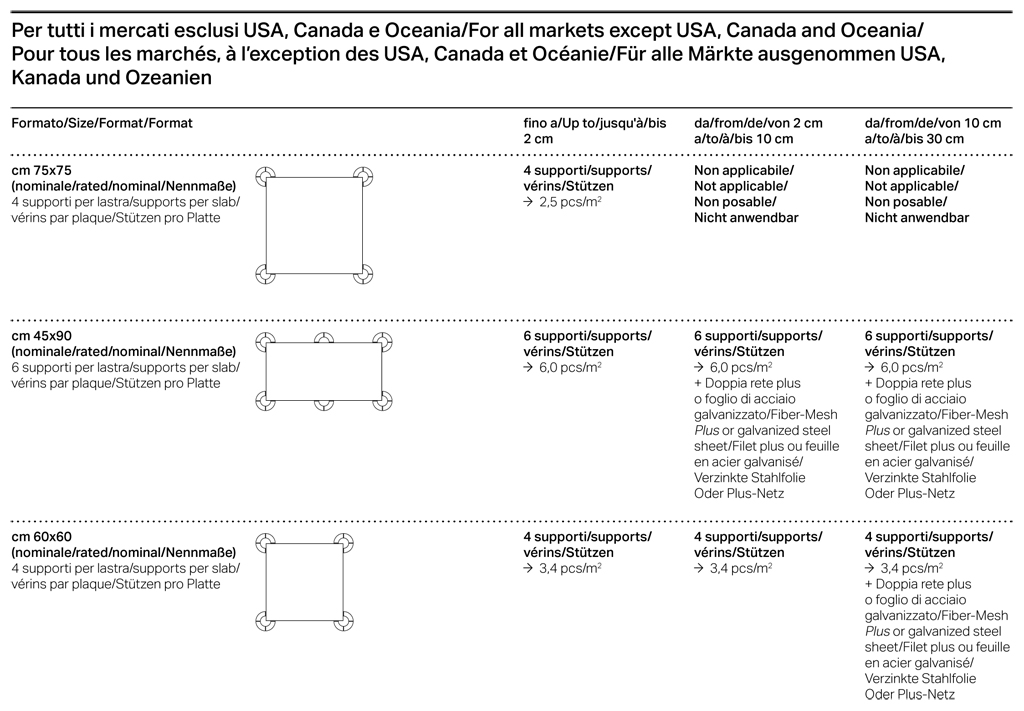 Pour tous les marchés USA, Canada et Océanie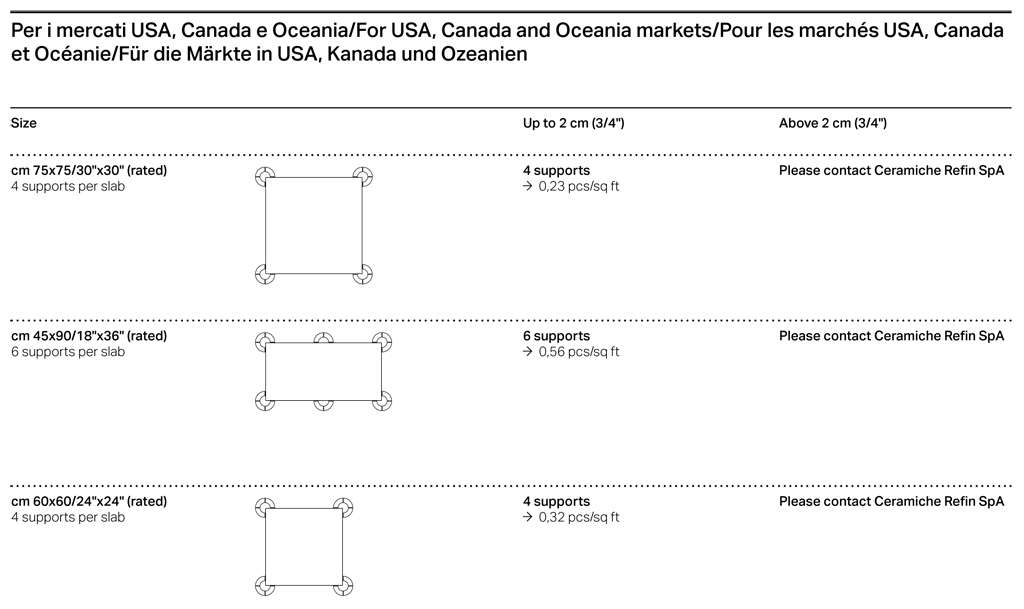 REMARQUE:
Pour de plus amples détails sur les spécicités techniques du treillis plus ou de la plaque en acier zingué, nous vous invitons à contacter Ceramiche Refin.
Ceramiche Refin n'est tenue responsable que dans le cas où elle fournit le système complet (dalle + treillis plus ou plaque d'acier zingué). Ceramiche Refin décline toute responsabilité en cas de renforts de dalles non fournis par ses soins.
En cas de rupture, la dalle devra être remplacée tout de suite.

système pour bord extérieur

S'il s'avère nécessaire de fermer un ou plusieurs côtés du plancher surélevé pour masquer la structure porteuse, Refin conseille d'appliquer un listel découpé sur le chantier, à la hauteur nécessaire.
Ce listel peut être collé à un élément métallique en forme de L qu'on trouve facilement dans le commerce et dont un côté sera fixé sous les plots.

AVERTISSEMENT
Les dallages extérieurs posés sans collage sont soumis à l'action du vent, avec le risque de soulèvement des plaques, notamment ceux posés aux étages d'un bâtiment. Le fabricant recommande de faire vérifier par un technicien qualifié la bonne adaptation du système de pose en étages avec la réglementation en vigueur et les conditions d'utilisation locales, afin d'éviter le risque de dommages aux personnes et aux biens.

Une dalle céramique posée sur un système surélevé peut se casser à la suite d'un impact d'un objet lourd qui y chuterait d'une certaine hauteur, avec le risque de sérieux dommages pour quiconque stationnerait ou transiterait sur ce carreau. Le non respect des instructions fournies par le fabricant relatives à la pose sur des systèmes surélevés peut provoquer de sérieux dommages aux personnes.